My Blog
Posts for: February, 2018
By DeWitt Dental Professionals
February 17, 2018
Accidents happen, especially to teenagers involved with sports or similar activities. In an instant they can lose one or more teeth and permanently alter their smile.
Fortunately we can restore a teenager's lost teeth, but often not immediately as a permanent restoration with a dental implant requires maturity of their jaw structure. Our focus then turns to the age of the patient and the condition of the underlying bone. A future dental implant, your best choice for tooth replacement, depends on bone for support, but also the age of the patient as it relates to jaw development.
There are a couple of ways an accidental tooth loss can harm supporting bone: first and foremost, the impact of the accident itself can damage the bony socket. To find out for sure we may need to perform a cone beam scan, a type of x-ray that allows us to view the area three-dimensionally. If we do find damage, we can attempt to repair the socket through bone grafting.
Bone can also suffer from the long-term absence of a tooth. Bone has a growth cycle in which older cells dissolve and new ones form to take their place. The force generated by teeth when we eat or chew helps stimulate this growth. Without stimulation, as with a missing tooth, the bone may not grow at a healthy rate. In time, it could lose some of its volume and density and not be able to support an implant.
Installing an implant right after tooth loss could help avoid this situation. Bone has a natural affinity with the titanium post imbedded in the jaw and will naturally grow and adhere to it. But we can't place an implant with a teenager. This is because the jaw is still developing so an implant would gradually become misaligned as the jaw grows. It's best to install an implant later after full jaw development in early adulthood.
Today, we can place a bone graft in the empty socket right after tooth loss. The graft serves as a scaffold for bone cells to grow on and will help keep the bone volume at a healthy level until we can install an implant.
Timing is everything in restoring a teenager's accidental tooth loss. But with coordination and care for the supporting bone, a teenager can eventually enter their adult years with their smile intact.
If you would like more information on restoring your teenager's smile after tooth loss, please contact us or schedule an appointment for a consultation. You can also learn more about this topic by reading the Dear Doctor magazine article "Dental Implants for Teenagers."
By DeWitt Dental Professionals
February 02, 2018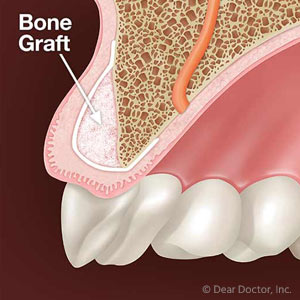 Due to financial circumstances, people often have a lost tooth restored with a removable partial denture, an effective appliance that restores function and a degree of aesthetic appearance. Later, though, they may want to improve both function and appearance with a dental implant.
If this describes you, you're making a great choice. Dental implants are the closest technology we have to a natural tooth. But there may be a roadblock to your implant, especially if a long time has passed since your tooth loss—there may not be enough bone at the site to place an implant.
The heart of an implant is a titanium metal post surgically imbedded in the jawbone. The titanium naturally attracts bone cells, which grow and adhere to it to form a solid hold that can support a porcelain crown or other restorations like bridges or dentures. But to achieve a natural appearance it's important that the implant is placed in the right location. To achieve that requires adequate bone.
But there may not be adequate bone if the tooth has been missing for a while. The forces generated when we chew travel through the teeth to the jawbone, which stimulates bone growth. If that stimulus is absent because of a missing tooth, new bone cells may not replace older ones at a healthy rate and the total bone volume begins to diminish. A denture can't compensate and, in fact, accelerates bone loss.
But there may be a solution: bone grafting. With this procedure we place a donor bone graft into the area of bone deficiency some time before implant surgery. The graft serves as a scaffold for new bone cells to grow upon. Hopefully, this will produce enough healthy bone to support an implant. If the bone deficiency is minor, we may place the implant and the bone graft at the same time.
If you have experienced bone loss, we must first determine the amount of bone at the missing tooth site and whether grafting is a viable option. Bone grafting postpones your implant, but the delay will be worth the wait if we're successful. With increased bone volume you'll be able to obtain a new tooth that's superior to your current restoration.
If you would like more information on dental implants, please contact us or schedule an appointment for a consultation.